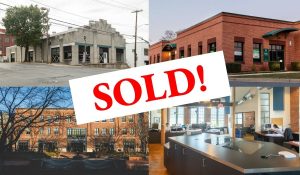 We've all had quite a year. We are all wondering what our new normal will look like, too. In 2020, commercial real estate hit a real low, but in 2021 our business saw record sales of buildings and land. Warner Commercial is optimistic that our clients' experience will continue into 2022.
While we are in the business of consulting, leasing and sales, we want to take a moment to highlight the financial gains we've assisted our clients with achieving. Whether they were looking to retire and divest their real estate portfolio, determined that it made sense to buy an office location or decided to become an owner and landlord, we've worked through the kinks of an unusual year and outperformed our sales goals for our clients and customers.
Do you have a building to sell? Do you want to buy a building? Let's work together!
To date, we've worked to secure settled sales contracts with more than a dozen buildings, land, condos and even parking spaces!
"Over the course of a year and a half, Jonathan and Warner Commercial went above and beyond in their representation of my properties and proved their worth as experts in the valuation, preparation and leasing of my buildings in advance of their sale," said Steve Smith who upon retirement decided to divest his real estate holdings and sold five buildings with Warner Commercial.
"In reflection, Jonathan's advice, work ethic and efforts on my behalf proved invaluable towards achieving my goals, and I will always be grateful for having this last opportunity to work with him," Smith concludes. "He is the consummate Real Estate Partner, and I am proud to count him as a friend."
Warner takes serious pride in the clients we've continued to work with time and time again. "We've worked with Jonathan and Warner Commercial for over a decade and he has guided us smoothly as our company has grown," relates Marc Feinstein whose firm purchased their own office condo in Historic Downtown Frederick.
"This experience has been no exception. Jonathan's expertise and good humor made the process of purchasing a commercial office condo as painless as possible," relates Feinstein. We appreciate all his hard work and we love our new space!" Warner Commercial worked with Miner Feinstein to set them up in their first office space and this year aided in their achieving their goal of owning their own space — this time with some room for growth.
Most times, it takes more than setting up a listing and putting up signs to sell or lease a property. Warner Commercial is thrilled when clients are in a position to take sound advice to put their properties in the best light possible. As with a number of clients Warner Commercial has maintained for more than three decades, it comes down to our approach and timing.
"Jonathan is a visionary. He looks down the road and helps us see what could be possible. When he first brought us his ideas for our space, I was skeptical," says Billy Willard, Willard Properties. "But his attention to detail has made (our spaces) better than I ever could have expected. In addition, he screens the tenants, confirms their economic viability, and coordinates meetings so that we get comfortable with them. When we make the decision, he takes if off my plate, and I know it's in good hands," concludes Willard.
Warner Commercial strives to develop lasting relationships, while always implementing a win-win approach for our owners and tenants. We look forward to assisting you with your commercial real estate goals. If you have a property to list, give us a call today at 301-663-0202.